Central Ohio Business Hall of Fame 2021

When: Wednesday, November 17, 2021
Where: The Grand Event Center at Grandview Yard
Time: 5:30 PM EST
Join us for the 34th Annual Junior Achievement Central Ohio Business Hall of Fame, as we honor forward-thinking entrepreneurs and accomplished community leaders for their contributions to our region's economic development and their commitment to business excellence.

We look forward to honoring our 2021 Laureates and celebrating the year-round work of Junior Achievement with you in November! We are so grateful for the support of our sponsors as we continue to innovate and meet students where they are both inside and outside of the classroom.

Wednesday, November 17, 2021
The Grand Event Center
5:30pm – 7:30pm
Intimate, in-person celebration to honor our 2021 Laureates, Educator and Volunteer of the Year

Wednesday, December 1, 2021
4:00pm – 4:30pm
Virtual celebration for the entire community

SPONSORSHIP
All sponsorships support the year-round work and mission of Junior Achievement of Central Ohio. Additionally, a portion of all dollars raised through the Central Ohio Business Hall of Fame help fund two scholarships given annually to two area high school students to be used towards future education or career certificates. The scholarships are given in honor of our Laureates each year.
Need More Information?
For more information about this event, please contact
Andrea Bloom
2021 Hall of Fame Honorees
2021 Hall of Fame Laureates: Patrick Losinski, Chief Executive Officer, Columbus Metropolitan Library & Guy Worley, Retired Chief Executive Officer, Columbus Downtown Development Corporation // Educator of the Year: Tia Holliman, Director of Curriculum, Gahanna-Jefferson Public Schools // Volunteer of the Year: Ron Birchfield, Administrative Manager, Pulmonary Services, OhioHealth Riverside Methodist Hospital (honorees pictured alphabetically by last name)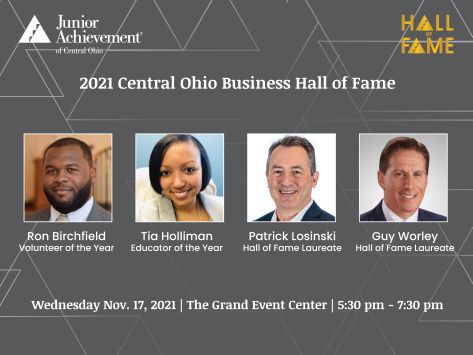 2021 Hall of Fame Honorees