Meet our Volunteer of the Year - Ron Birchfield!
"I encourage business leaders to consider connecting with them to learn more about how they can be involved."
Author: Julia Wade
Community Involvement
Published: Monday, 23 Aug 2021
---
Sharing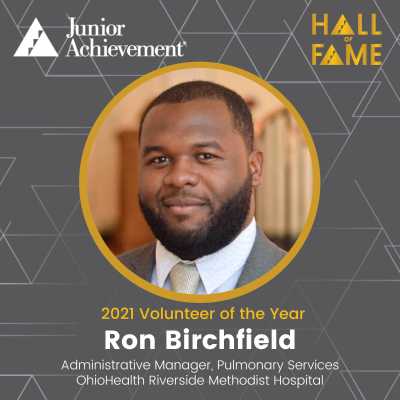 Image caption: Ron Birchfield, JA of Central Ohio Volunteer of the Year
Introduce yourself! Why are you passionate about your work?
My name is Ron Birchfield. I was born and raised in Toledo, OH and am a former student of Junior Achievement. I moved to Columbus to study at The Ohio State University where I earned a Bachelor of Science in Human Nutrition Sciences, as well as a Master of Health Administration. Most recently I completed an administrative fellowship with OhioHealth and now serve as the Administrative Manager for Pulmonary Services at OhioHealth Riverside Methodist Hospital. I am passionate about the work that I do because it is a genuine opportunity to improve the life of others in the smallest and largest of ways. My team and I care for patients and their families at the best moments, and most challenging moments. Being able to lead people through those moments on a daily basis and demonstrate that care is multifaceted, is something I value.
Can you tell us about OhioHealth and JA's relationship?
OhioHealth and Junior Achievement have been great community partners for quite some time and as we continue to grow and look at health more holistically in our field, teaming up with organizations like Junior Achievement has become that much more pivotal in community advancement. Over the past two years, I have served as a liaison between Junior Achievement and OhioHealth looking at both short term and long-term development of our partnership. In the short term, we have been able to help dozens of students through assisting in the organization of a Career Speaker Series for local schools in which we expose students to non-traditional career pathways within healthcare (i.e. respiratory therapy, radiology tech, administrative leadership, etc.). Additionally, once safety guidelines permit, we hope to host students on-site in our simulation laboratory to give them exposure to these areas through the same hands-on learning experience that we provide to our clinicians. Long term, we are in the process of developing career pathways for hard-to-fill areas within our health system that will allow students to learn from OhioHealth experts in their respective fields, and ultimately be considered for potential future career opportunities with OhioHealth.
Why do you continue to partner with Junior Achievement?
I continue to partner with Junior Achievement because I have personally experienced the impact that it has for students regardless of their backgrounds. The methods used are proven to be successful and year after year, the compassion that is put into the initiatives is evident in student outcomes. Whether it is volunteering in a classroom or setting up for JA BizTown, for me, it all comes back to not only seeing the smiles on the students' faces as they unlock abilities and desires within themselves that they did not know they had, it is seeing how those realizations develop into actions that bring promise to our community's future. Likewise, our mission at OhioHealth is to improve the health of those we serve which aligns with JA's mission of inspiring and preparing young people to succeed. Our partnership embodies both of these statements as we seek to provide structured pathways to personal and career advancement that are both rooted in relationships and education.
Why are JA volunteers meaningful for students?
To me, the most important thing that a volunteer can provide to a student is empathy. One of the most valuable takeaways I've had through working with students is that everyone learns differently. In a single classroom, students will consist of different socioeconomic backgrounds, genders, religions, races, etc. That said, while we may not have the resources to support our teaching professionals addressing the individualized needs of each student, volunteers can most certainly help in bridging that gap. As a volunteer, having empathy shows that you are directly invested in the development of the student as well as investing in the support of our community's teaching professionals. Likewise, in exercising empathy, you may walk away with a learning or two that could make you a better person. Even the youngest of students has their own way of teaching some impactful lessons!
What obstacles do you see young people facing today? Do you think JA is helping students overcome these obstacles?
In my opinion, the most present obstacle for young people is two-fold, the first being the cost of continuing education, and the second being the lack of organization around presenting students with options to continue their education outside of a traditional 4-year degree. JA definitely helps to support students overcoming these obstacles through its commitment to continuous improvement in meeting the needs of its students. The development of the OhioHealth and JA partnership is a prime example of this in that we are able to present students with structured opportunities early on in life that have both immediate and residual benefits for them. In an ideal situation, a student from JA would be identified for a program that could provide a curriculum of on-site opportunities at OhioHealth and be mentored to develop a career plan. Once graduated from high school, the student would ideally be equipped to apply for full- or part-time employment with OhioHealth, which provides benefits including tuition reimbursement, and professional development courses, that would allow them to continue their education at little to no cost. From there the question is less about how JA directly helps students overcome these obstacles, but more about how other organizations can more actively collaborate with JA to support Central Ohio students in ways that are mutually beneficial for all parties involved. The JA leadership team is doing a great job making connections in the community and I encourage business leaders to consider connecting with them to learn more about how they can be involved.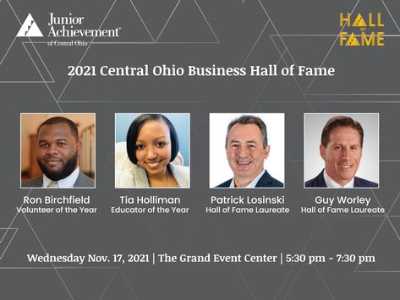 Image caption: Hall of Fame 2021 Honorees
---
Each year, we recognize a Volunteer and Educator of the Year, in conjunction with the induction of Central Ohio Business Hall of Fame Laureates. Learn more about our event: Hall of Fame 2021.
We use cookies to provide you a personalized experience. How we do this is by analyzing user behavior on our site and sharing data with our advertising and analytics partners. You consent to our cookie policy if you continue to use this website.