NBC4 at 7 Covers Columbus City Schools Junior Achievement Day
Junior Achievement & EY Inspire and Prepare: Financial Literacy Day for 717 Columbus Students!
Author: Aislinn Klosterman
Community Involvement
Published: Wednesday, 15 Nov 2023
---
Sharing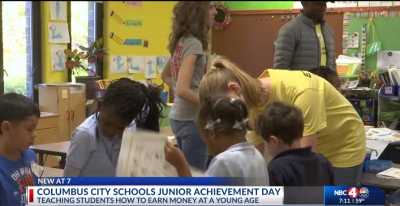 Image caption: EY (US) volunteer helping a group of students
Watch NBC4 at 7 Coverage of this JA in a Day Here
Junior Achievement of Central Ohio (JA) collaborated with Ernst & Young LLP (EY US) associates for the third year in a row to create an exciting and informative day for Avalon and Alpine K-3 Elementary School students. With the help of teachers, volunteers took the lead in 30 classrooms on Friday, November 3rd to teach students about financial literacy, work readiness, and entrepreneurship. JA offers specific programs for each grade level, which act as building blocks that prepare students to succeed in their lives and careers.
"We're excited about the opportunity to provide a transformative experience, not only for the kids but for our people too." EY Columbus Office Managing Partner Jeff Smith said. "Getting out into the community and making a positive impact on students' lives is so rewarding and aligns with one of our focus areas, supporting the next generation workforce. Everyone always comes back more inspired."
Volunteer groups like EY are essential to achieving Junior Achievement's mission. Their impact is two-fold; they deliver essential educational programs about money, jobs, and business, and they provide insight into potential future career pathways that students may not have been exposed to otherwise. In a 2022 survey completed by Ipsos (a top 5 research firm), they found that of JA alumni who reported that a volunteer came to their class, two-thirds (64%) say they remember the concepts the volunteer taught. More than half (56%) say they are currently in a career, or job, or have worked in a similar position to the one their JA volunteer had.
"The students love the hands-on activities," said Mrs. Tabitha Fisher, Kindergarten teacher at Avalon. "It is a great way to get kids thinking about making good choices with money. They get very excited making the piggy banks!"
Junior Achievement serves more than 35,000 K-12 students each year in the central Ohio area. EY is part of a national network of business and community volunteers who are helping young people develop the competence, confidence, and character needed for success in school, work, and life.