New Board Member Gerrod A. Parchmon
Author: Aislinn Klosterman
Community Involvement
Published: Monday, 30 Oct 2023
---
Sharing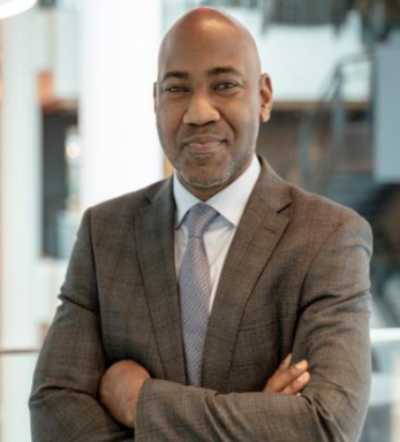 Image caption: Gerrod A. Parchmon
We are excited to announce that Gerrod A. Parchmon is the newest member of our board! His extensive experience in finance and commitment to our mission will make a significant impact on our organization and community. Once again, congratulations Gerrod and welcome to the team!
About Gerrod:
Managing Director – CCB and AWM Controls at JPMorgan Chase & Co.
Head of Regulatory & Change Management Governance

Gerrod currently leads the Regulatory and Change Management Governance (RCMG) organization. RCMG is responsible for enabling CCB, AWM and ICB to assess applicability and support the execution of regulatory and business-driven changes across the lines of businesses, provide oversight of obligation mapping and sustainment activities, ensure consistency and guidance for the management and execution of policies & standards owned by the lines of businesses and assess the execution of the Firm's Office of Legal Obligations Program.

During Gerrod's overall tenure at JPMorgan Chase, he led the Virtual Banking team, a group of centralized retail bankers located in North America and Asia, along with teams that are responsible for driving new business growth within Community Banking. He also led the Banker Support team, which is responsible for serving and supporting the operational needs of bankers within the 5,500 branches across the Chase Consumer Banking footprint.
Gerrod's 20+ year career in financial services includes roles at Bank of America, Huntington Bank, TD Bank, and Chrysler Financial. During his tenure at Huntington Bank, he was responsible for leading indirect underwriting, pricing, product, and strategy in Huntington's $12B Auto Finance organization and supporting the development of Huntington's 3-year business strategy. At Bank of America, he served in a variety of roles, including West Region Market Executive for the Dealer Financial Services' multi-billion-dollar consumer and commercial portfolio across 9 states and Region Executive in the Pacific Northwest in the Consumer Bank, with responsibility for driving revenue and operations in the financial centers. He also served on the Market President's leadership team in the state of Washington, driving internal business integration and local market philanthropy. At TD Bank, Gerrod was responsible for leading product and pricing in TD's Auto Finance organization. During his tenure at Chrysler Financial, Gerrod served in leadership roles within compliance, business strategy and sales.

Prior to his financial services career, Gerrod spent nearly 10 years at Chrysler in manufacturing operations. He started his career at the age of 17, working on the assembly line while attending college. Gerrod has an undergraduate in business from Cleary University and an MBA from Northwood University. In addition to his corporate responsibilities, Gerrod is active with his family and in the community. He currently serves on the boards for the Pacific Coast Banking School and Junior Achievement of Central Ohio.
He previously served on the boards for the Columbus Urban League, Junior Achievement of Washington and Big Brothers Big Sisters of Sacramento.