JA Career Adventures®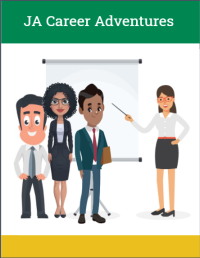 This program is administered by JA of Central Ohio
Implementation:
Virtual
Pillars of Student Success
Work Readiness
High Work Readiness
Financial Literacy
Moderate Financial Literacy
Entrepreneurship
Minimal Entrepreneurship
JA Career Adventures
is a highly-engaging, digital program that encourages 6thgrade students to think about not just what they want to be when they grow up, but also who they want to be!
Through lessons aligned with state learning standards, assignments, examples, decision-making activities, videos, and more, 6th grade students learn about finances, economics, careers, and themselves.
The
JA Career Adventures
encourages students to find out WHO they want to be before deciding WHAT they want to be.
After participating in
JA Career Adventures
, students will:
-- Have a greater comprehension of how their personality, skills, interests and values may lead to a rewarding career
-- Develop an introductory understanding of personal budgeting
-- Have a deeper understanding of financial literacy topics such as earnings, savings, taxes, loans and credit scores
-- Investigate Career Clusters based on the results of a Holland Codes Interests Survey
-- Recognize that planning for their future starts now!
Each Adventure includes videos, GIFs, colorful graphics, activities, confidence-building language, diverse teacher iconography and plenty of white space to make it easy to read.
Program Concepts
Budgets, career, career clusters, credit scores, earnings, education level, Happy Place (a successful and rewarding career), high-growth careers, interests, job growth, job outlook, loans, money, personal budget, personality, responsible consumerism, savings, skills, soft skills, taxes, technical skills, transferable skills, values, Venn Diagrams, wages v. salaries, wants v. needs
Skills Students Learn
Budgeting comparing and contrasting information evaluating and sorting options identifying personal skills identifying strengths and weaknesses logical reasoning note taking read for understanding recognize vocabulary review results self-evaluation
Alignment with State and National Standards
Request a Presenter to Teach Curriculum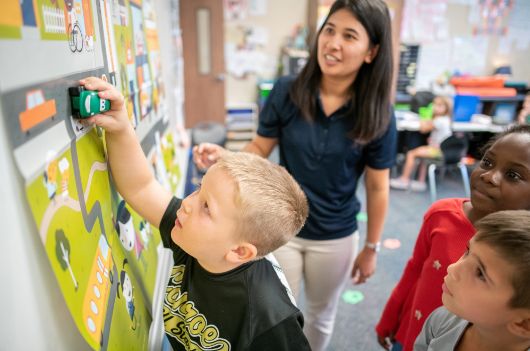 Junior Achievement lessons are delivered by volunteers from the community. These presenters are prepared by JA to facilitate engaging learning activities that focus on financial literacy, work and career readiness, and entrepreneurship. This results in an enriched learning experience that helps students make the connection between what they learn in school and the world outside the classroom.
Steps to Request a Presenter

1) Request Info
Once you've decided to have a JA volunteer in your classroom, fill out the form on this website. You will receive information on next steps.
2) Pick Schedule
You will be able to coordinate a schedule that works for your class either online or in conjunction with a JA representative.
3) Meet Presenter
Once a volunteer is identified for your class, JA will connect you with the presenter to discuss roles, expectations, and logistics.
4) Empower Students with Standards-Based Education
After all details are in place, the JA volunteer will deliver lessons to your students either virtually or in-person.
We use cookies to provide you a personalized experience. How we do this is by analyzing user behavior on our site and sharing data with our advertising and analytics partners. You consent to our cookie policy if you continue to use this website.