JA and Workforce Development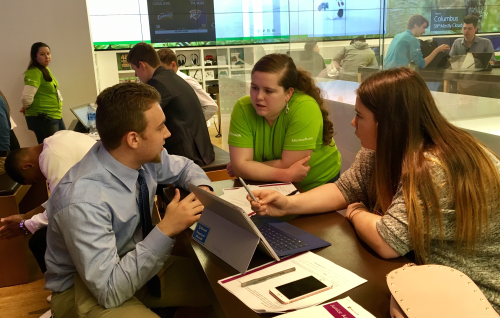 Education and employer systems are not effectively aligned to develop and transition young people from school to careers. A 2018 Bloomberg Next study found that 40% of corporations and half of academic institutions believed recent graduates lacked the soft skills needed for them to succeed in the workplace.
Junior Achievement of Central Ohio (JA) is part of the solution to our region's workforce development and economic mobility needs. JA alumni, when compared to the general public, have higher levels of educational attainment, career satisfaction, financial capability, entrepreneurial activity, and household income.
Since 1950, JA has been preparing students to achieve personal success in their careers and in life with real-world learning experiences that teach our three pillars: work readiness, entrepreneurship, and financial literacy. We hone foundational skills and ignite new ways of thinking through immersive opportunities so that students can draw on their experiences and apply abstract concepts to create value for their future industries.
We know that students' enthusiasm for their education falls as they get older - a 2016 Gallop poll found that only 34% of high school seniors where engaged in school, compared to 74% of 5th graders. That's why JA begins intervening as early as kindergarten, helping students through our K-12 experiential programs to connect the dots between what they're learning in the classroom to the life they'll have after graduation.