JA Career Adventures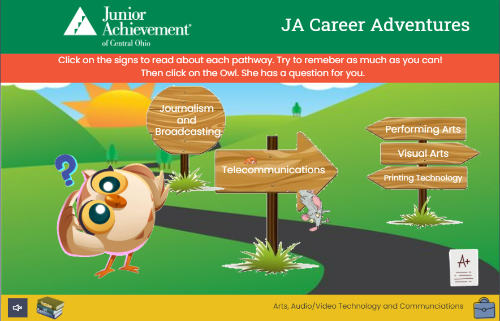 JA Career Adventures is a highly-engaging, digital program that encourages 6th grade students to think about not just what they want to be when they grow up, but also who they want to be!
Through lessons that fulfill 6th grade Ohio Learning Standards in Financial Literacy and the economics strand of Social Studies, students learn about finances, economics, careers, and themselves.
After participating in JA Career Adventures, students will have a better understanding of:
Matching their personality, skills, interests and values to a rewarding career
Personal budgeting
Financial literacy topics such as earnings, savings, taxes, loans and credit scores
Career Clusters, based on their Holland Codes
Planning for their future - which starts now!
Each Adventure includes videos, voice overs, GIFs, colorful graphics, activities, confidence-building language, diverse teacher iconography and plenty of white space to make it easy to read.
Educators may:
Register Your Class