JA BizTown - Central Ohio
Simulated Learning Programs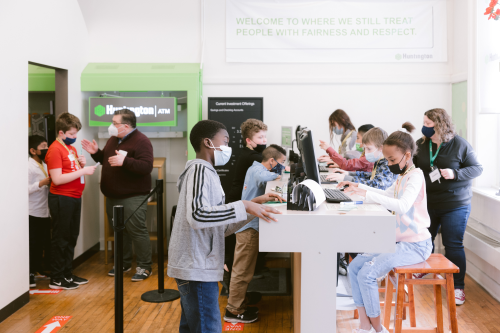 Innovative | Bold | Relevant
After learning about money, businesses, and jobs at school, 5th graders enjoy a day-long visit to JA BizTown, where they experience being an adult for the day. Volunteers guide students as they operate banks, manage restaurants, write checks, and vote for mayor, helping students connect the dots between what they learn in school and the real world.
Program Goals
The goals of JA BizTown are to enable students to understand:
The roles they play as citizens, workers, and consumers in their community and relate those roles to the free enterprise system
The importance of citizen rights and responsibilities in a community
Basics of the free enterprise system
Money management skills and practical knowledge of economic concepts and banking practices
Basic business practices and responsibilities
Soft skills necessary for successful participation in the world of work.
How You Can Participate
Volunteers are needed to mentor small groups of students throughout their day at JA BizTown. No special budgeting expertise or preparation is necessary and thorough training is provided for all volunteers!
We use cookies to provide you a personalized experience. How we do this is by analyzing user behavior on our site and sharing data with our advertising and analytics partners. You consent to our cookie policy if you continue to use this website.